With the current internet age, resets and restores have become regular mobile software management practices. While many iPhone users might assume that all iPhone reset options are simple, doing them without an approved guide can be dangerous. You risk losing your device information and a possibility of a permanent crush if you do not follow an approved guideline. In this article, we tried to compile all the possible iPhone X reset options for most functionalities. Please read through, before you attempt any iPhone reset. We tested all the reset options severally, and they worked effectively – however, we are not liable for any damages that might be caused to your devices.
How to soft reset an iPhone X
Soft resetting includes turning off your iPhone X for seconds before powering it on – a simple reboot process. The significance of this practice is to tackle various software bugs, including rogue apps, and other minor on your mobile device. In addition, soft reset cleans the cache and other temporary files stored on the iPhone's internal storage – increasing its overall performance.
We compiled a simple, and easy to follow guide on how to soft reset your iPhone X:
Press-hold both the Power and Volume-up buttons for seconds
Immediately release the buttons once you see the Slide to Power Off icon on the screen, before you slide to turn off your device
Wait for close to 30 seconds, before you long-press the Power button on the side of your phone until your device reboots.
If your device has an activated PIN or passcode, you'll be prompted to enter the details to access the home screen.
How to force reset an iPhone X
Force reset is another proven alternative of soft reset for any iPhone device. This method works by forcing your device to shut-down and restart. Force reset applies when your iPhone X enters a sudden unresponsive mode – every application freezes/ hangs. This method shares the same objective as that of soft reset – dumping temporary files and memory cache – but done differently.
Use the guide below to force reset your iPhone X:
Quick-press and release the volume-up button
Then again, quick-press and release the volume-down button
Thereafter, long-press the power button on the side; release when you see the Apple logo on your device screen.
Note: Both soft reset and force reset methods for iPhone X do not interfere with your device's system files.
How to reset all settings on iPhone X
The main objective of this reset option is to erase the entire customized settings of your iPhone X, before restoring the original default settings. The method is always required to solve iPhone issues assorted to major system settings errors that are hard to revert. However, unlike the force reset option, this method doesn't erase saved data on your device memory.
Here's the guide on how to reset all settings on your iPhone X:
Click to open the Settings app
Click on General
Now scroll down to select the Reset option
Then chose the Reset all settings option from the menu list
If prompted, input the device passcode for your iPhone X, and click the option button to confirm the settings reset process.
Once the reset is done, your iPhone will automatically restart, before running the default system settings thereafter. After the process, you might want to again re-adjust all the features you want to use on your iPhone X.
How to reset Network settings on iPhone X
Resetting the network settings on an iPhone is often needed when you experience network connection problems. The practice is meant to wipe all the available network configurations and settings to restore the original connection settings. The network settings reset option will effectively solve all internet connection issues, including slow, intermittent or zero connections. The guide below shows you how to perform the process: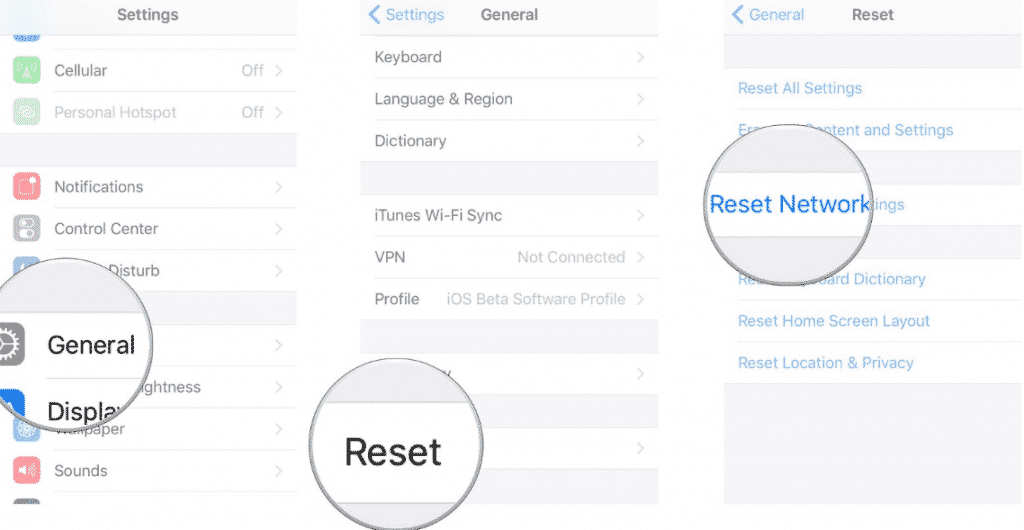 Tap to open the Settings app
Next, click to open the General page
Now scroll down to select the Reset option
Now click to choose Reset network settings
If prompted, enter your iPhone X passcode
Finally, click option to confirm the network settings reset process
Be patient as your iPhone X finishes resetting its network settings. Once the process is done, the device should restart on its own. Again, wait until the reboot process is complete before you begin setting up a new internet connection.
How to factory reset an iPhone X
An iPhone factory reset, often termed as a master reset, is a practice which wipes all data from a device – restoring it to its default form. A factory reset, unlike the other reset options, removes all personal data, as well as other stored files on the device memory. Therefore, we recommend you to back-up your data before performing this reset.
Factory resetting is regularly used when you ran into major software problems, such as dangerous bugs, malware, and other unforeseen system errors. There are two ways you can factory reset your iPhone X: through settings, and via iTunes.
How to factory reset an iPhone X using settings menu
Open the Settings app
Click General
Scroll down and click to open Reset
Locate the Erase all content and settings option
Enter the correct passcode for your device – when prompted
Finally, click option to begin factory resetting.
Once you confirm the factory reset process, the device will begin wiping all the system information and then restart when it's done.
How to factory reset an iPhone X using iTunes
If your iPhone X is stuck, and your screen unresponsive, then you should use this option. To begin, you'll need to have a Windows or Mac laptop that has the latest version of iTunes. Once you have secured it, follow these simple instructions to factory reset your iPhone X:
Use the supplied USB cable to connect the iPhone X to your computer via a USB port
Navigate and open the iTunes app on your computer
Patiently wait for iTunes to recognize your iPhone X, before clicking the iPhone icon on the left side of iTunes menu
Now click Restore – you're free to select the Back-Up option to secure important files before the resetting
Once iTunes prompts you to Restore the iPhone and all wipe everything from your iPhone, tap on the Restore button to accept
Now, patiently wait as iTunes wipes your device. When it is done, you can download the correct software for your device and restore.
To begin afresh and install default settings, select the Set Up as a New iPhone option then follow the setup wizard to finish. You should wait for the whole reset process to complete, before disconnecting your iPhone X from the computer. This will prevent any data corruption and an incomplete system reset.
Wrap up!
We tested all the reset options severally, and they worked effectively – however, we are not to be held liable for any damages that might be caused to your devices.