As you carry out with your day-to-day routines, you may sometimes wonder, "What should I do to reduce my huge mobile phone wage bill?" Your option is to relentlessly search and sign up for a mobile network plan that is offered without a contract and at a low cost by its MVNO, or simply Mobile Virtue Network Operator.
Mint Mobile
Mint Mobile is a prepaid Mobile Virtue Network Operator company that doesn't have its own mobile network but rather leases space on T-Mobile's towers – an existing legacy provider. On leasing the space of an existing network provider, MVNOs don't have to create or maintain their own networks and other infrastructures such as mortar stores and bricks. Therefore customers are offered services at a more reasonable cost.
Therefore the choice one has to make is to choose the mobile network provider, which typically has the following:
Best tools
Amazing customer service
Best pricing
Mint mobile was launched over two years ago, and it offers several data packages depending on your needs. Customers subscribe with their own devices and pay subscriptions of three, six and 12 months up front. This allows Mint to discount pretty sharply on its monthly rates in comparison to its competitors. Let's have a look at Mint Mobile.
Network used
As we have earlier seen, Mint Mobile is a mobile virtual network operator or an MVNO and it, therefore, operates on the infrastructure of an already existing network. And in this case, Mint uses T-Mobile's Network.
T-Mobile provides a network that claims the fastest in terms of average upload speeds. This is a plus to Mint customers considering that some of its competitors throttle speeds. Mint also provides a map that helps you determine whether the service works for in your region or not. You can find the map on their website.
Mint mobile Plans and Pricing
Although major wireless providers such as T-Mobile are focused on unlimited data plans, prepaid carriers such as Mint Mobile have provided other data packages — which are at a lower price. The data allotments are for three months, six months and 12 months. Mint Mobile does not provide data every month. Its plans make its subscription unique and among the best in the industry. Earlier, Mint had tiers of 2GB, 5GB and 10GB of 4G LTE data connection, for three months, six months and 12 months. Currently Mint has upgraded its tiers to 3GB, 8GB and 12 GB for the same period. Therefore the more you buy upfront, the more you save. The first billing has a three-month offer where you pay $15 per month for 3GB, $20 for 8GB and $25 for 12GB.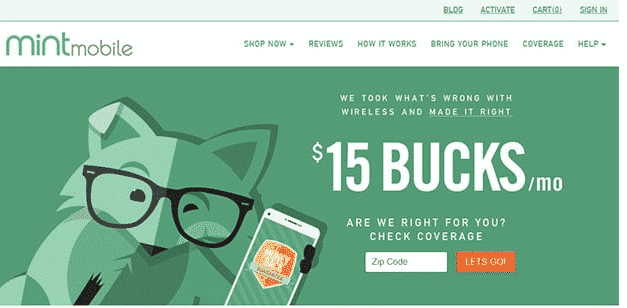 After the first billing cycle, the pricing becomes somehow complicated. In the renewal time, the promotional three-month option disappears. The table below represents your payments after the first billing cycle.
| | | | |
| --- | --- | --- | --- |
| | Three months | Six months | 12 months |
| 3GB LTE | $75 up front ($25 per month) | $120 up front ($20 per month) | $180 upfront ($15 per month) |
| 8GB LTE | $105 upfront ($35 per month) | $150 up front ($25 per month) | $240 up front ($20 per month) |
| 12GB LTE | $135 up front ($45 per month) | $175 upfront ($35 per month) | $300 up front ($25 per month) |
Although the prices increase after the first billing, Mint's plans are still inexpensive when compared to its competing prepaid carriers.
Phones used with Mint Mobile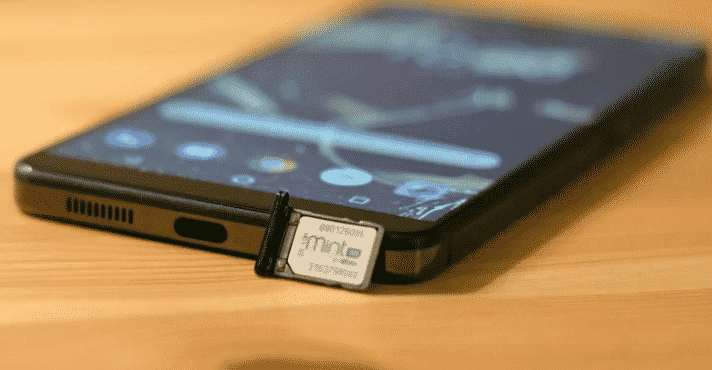 Mint does not offer its own devices, and you should, therefore, come along with a phone that is unlocked to the network. A GSM phone for that matter since Mint operates on T-Mobiles GSM network.
Unlocked phones are mainly geared for CDMA networks such as Sprint and Verizon or GSM networks like T-Mobile and AT&T. It's not hard to find an unlocked phone from the market, and if you have one which you don't know its whereabouts, you can plug its IMEI code into Mint's checker and confirm if it is compatible.
Some of the compatible phones include:
Apple iPhone Xs Max
App le iPhone Xs
Apple iPhone 8
Samsung Galaxy Note 9
Sam sung Galaxy Note 8
Samsung Galaxy S9
Sam sung Galaxy S9+
Samsung Galaxy S8
Google Pixel 3 XL
Google Pixel 2 XL
LG V30 Plus
Motorola Moto Z3 Play
Motorola G6
ZTE Avid Trio
Nokia 2
On having the right phone on your hands, follow the steps below to get everything running – from texts, data and calls.
In your compatible device, insert the Mint SIM card
Go to MIntMobile.com/activation from my computer
From the back side of the SIM card holder, you will find the activation code. Enter the number
Choose whether to keep the existing number or get a new phone number
To create an account, enter the billing information
From the phone's settings menu, configure the data settings
Finally, restart the phone to use the Mint Mobile service
If you want to try out Mint Mobile, you will get a $5 pack which has two SIM cards where one is a backup in a scenario you decided to port the existing number. Also, you get a week of 100MB data service to witness the performance of the network personally. On purchasing a plan, you are refunded the $5 for the kit.
Text and call performance
If the T-Mobile network coverage is good in your area, the Mint Mobile should be Holy Grail because they use the same towers. Messages do not miss, and calls are clear. On connecting to Wi-Fi, you can send text messages and call over that network connection
Data speeds
Although not the fastest, the data speeds will allow you stream music, watch videos load websites and use maps for navigation without buffering or any disruption. An average download speed of 5-10 Mbps should be perfectly fine for streaming video on Mint network.
Features of Mint Mobile
Some of the special features offered by Mint Mobile include:
Introduction of seven-day money back guarantee. You can get a full refund (minus the handling and shipping cost) within a week if you purchased the service and did not work for you.
When travelling overseas, Mint offers you international roaming data at the cost of 3GB at $20 and 1GB at $10. Also although Mint is a bare-bones service, you can still be able to add an LTE data allotment at an extra cost of 1GB for $10 and 3GB for $20.
If your device allows Wi-Fi calls and texts, then Mint permits them. Most Android devices support this feature although Mint's FAQ says iPhones cannot take advantage of Wi-Fi calls.
You can reach Mint's customer service if the need arise by simply dialling 1-800-683-7392 or 611 or 213-372-7777 also via their emails support support@mintmobile.com
However, if Mint is currently tied to another carrier, it does not assist in unlocking your existing device. At the same time, it does not offer visual voicemail. Therefore, Mint subscribers can only use Google Voice as the replacement.
Pros and cons of Mint Mobile phone service
Pros                                                                Cons
Inexpensive data plans                                 No unlimited data plan
Mobile hotspot allowed                               No monthly payment
Phone and email customer support
Easy activation process
Referral credit is earned
Wrap up!
As we have established in the review above, Mint provides one of the best carrier services with the best possible data speeds and readily available customer support. The data services are provided at a lower cost per month. It's bulk sales help it to achieve lower prices in the industry when compared to its competitors.
If you are willing to use third-party services such as Google Voice, then Mint should never be a problem for you. Though if you want more perks, then you should consider using other prepaid carriers that charge more.
Mint Mobile will be worth swapping to if this is you:
You have already identified that T-Mobile's coverage is decent in your region
Got no problem tracking your high-speed data since they don't offer an unlimited plan
You have a GSM phone or are ready to purchase a new device
You are ready to prepay for three, six or twelve months in advance.