Google's 2018 Pixel 3 tier was probably the most hyped flagship of the year, in a long time. Both Pixel 3 and Pixel 3 XL have several similarities, and their functionalities have always amazed its users. Both these devices are fast, have excellent display features, and their camera system came out top of all smartphones unveiled in 2018.
Since both devices run on Android 9.0 Pie, there are a number of settings that'll you want to tweak, during setup and even at later stages of using the devices. In this article, we tried to look at each of 8 such settings that you can change now.
Lockdown
The lockdown is a feature used to disable the fingerprint sensor on your device. You can activate the feature when you are in less-than-ideal position. Immediately you turn on this feature, your Pixel 3 will lock all its functionalities, and can only be unlocked with your unique passcode.
To lockdown your device, navigate to Settings=> Security & location=> Lock screen preferences=> Show Lockdown option. Once you enable the Lockdown feature, you can now activate the mode by long-pressing the power button and choosing Lockdown from the popup.
Wind Down
Wind Down is a rare, yet great feature by Google to help users overcome phone addiction. If for instance, you stay on the phone for a long time than you had planned, then you can use Wind Down to discourage you from using it. Once you turn on this feature, it turns the color of your phone to grayscale mode and in a 'Do not disturb' mode. Therefore, if say, you visit Instagram or Twitter, you'll be met with a grayscale interface; that will discourage you from using your device – putting it down.
To perform this, go to Settings=> Digital Wellbeing=> Wind Down. Once you get to the Wind Down page, you can customize how the feature should work, like when it turns on and off; whether you need both grayscale and DND to be active at the same time.
Active Edge
Usually, if you're a big fan of Google Assistant, then you can summon the helper by pressing both of either Pixel 3 tier. However, if you are not a regular user of the assistant or not a fan at all, then you can adjust the amount of pressure you should apply on the phone to trigger the helper.
Optionally, you can just switch it off; either way, here's how to do it: navigate to Settings=> System=> Gestures=> Active edge.
Flip to Shhh
While it might be strange and dangerous to some; putting your phone into DND mode and silence it, always offers a peaceful mood. It is dangerous since you risk missing calls and important notifications; but it is also a great mode if you're in meetings, interviews, or taking part in other important activities.
To enable this feature, go to Settings=> System=> Gestures=> Flip to Shhh
Ambient display
Ambient display is a handy feature that you can use whenever your Pixel 3 device is sitting idle. This unique, but significant mode only displays the current time, unattended notifications, Weather, and the current song playlist through the Now Playing functionality. Moreover, if say, you don't want to the Ambient display mode at all; just head to settings and tailor it to suit you.
To enable the feature, head to Settings=> Display=> Advanced=> Ambient display.
Now Playing
Now Playing works by collecting your music preferences that play in restaurants, in your car, etc.; and then suggesting them later, whenever you want to listen to music on your Pixel 3. The collected song or artists will be displayed at the bottom of your device's ambient display. Now Playing doesn't send your data to Google statistics, but rather uses information gathered to offer an even better experience.
To turn on this amazing feature, open Settings=> Sound=> Now Playing.
Fingerprint functionality
The fingerprint system sporting the back of your Pixel 3 phone can act as a passcode and a trackpad at as well. In particular, you can use the feature to open the notification tray at the top of your device; by swiping down to view. Therefore, you can use the fingerprint gesture for either functionality; you just need to configure it to suit your needs.
For instance to enable the fingerprint to swipe open the notifications tray, navigate to Settings=> System=> Gestures=> Swipe fingerprint for notifications.
WiFi Calling
Since the introduction of the WiFi Calling feature, it has turned out to be useful if you find yourself in a place with poor network signaling. Moreover, in 2019, we're pleased to announce that most carriers are supporting this amazing feature; but only on newer device models. For instance, Google's Pixel 2 model which runs on AT&T doesn't have WiFi Calling, but its newer model, the Pixel 3 which is also carried by AT&T has the WiFi Calling functionality.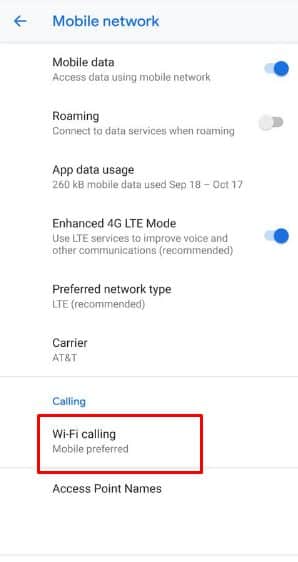 To activate the functionality on your Pixel 3 device, go to Settings=> Network & Internet=> Mobile network=> Advanced=> WiFi Calling.