Recently Samsung confirmed the launch date for the Galaxy S10 tier as Wednesday, February, the 20th. The announcement date and time imply that we'll get to see the new Samsung handsets days before the MWC 2019; an event scheduled to take place as from February 25th to 28th.  While we know that MWC is an annual event where phone manufacturers get to announce all flagships aligned for to be launched, we believe Samsung's move to launch earlier, will give them an upper hand against its competitors.
Samsung itself confirmed the date and venue of their launch event. The Galaxy S10 line will be announced at the Bill Graham Civic Auditorium in San Francisco, at exactly 11 AM PST (2 PM ET, and 7 PM GMT).
According to some headlines, the dates were rumored before, so it doesn't come as a surprise, even though some reports missed out on the exact dates. It's obvious that Samsung will unveil the new Galaxy S10 devices, and they might go into the market for another couple of weeks. A trusted source told news outlet that March 8 will be the date the handsets will go on sale in South Korea, but there's a rumor that the devices could enter the Italian market the day before. So generally we expect March 8th to be the official the Galaxy S10 tier will enter the market globally.
Which devices are likely to be unveiled
However, we think that the rumored launch dates will only apply for the three main models, including Galaxy S10, S10 Lite, and the S10 Plus as well. Another source adds that the 5G powered S10; which we predict to be named the Galaxy S10 X – will ship as from March 29th.
The 5G equipped handset will be followed by a Galaxy Note 10 in August, Tech Advisor reports. Additionally, during the 20th February event, we expect Samsung to unpack its much anticipated foldable phone; together with a Galaxy Sport smartwatch, and a Galaxy Home Mini smart speaker.
According to an elite leaker, Evan Blake, the three S10 phone (S10, S10 Lite, and S10 Plus) will sport a new Infinity-O display with an integrated fingerprint system. There's also a triple-lens on back camera system that will feature on the S10 and S10 Plus; while the S10 Lite will sport a dual-lens selfie camera system.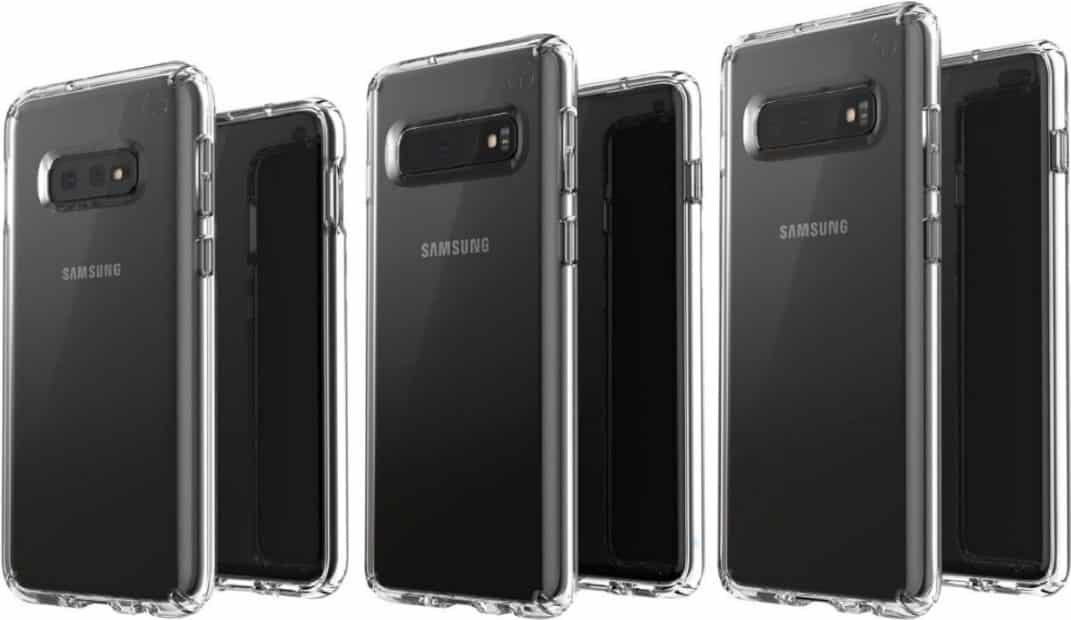 How much will the Galaxy S10 cost?
Samsung is expected to debut a Lite version of its smartphone line, a model which will retail at cheaper prices; approximated at $777, with its higher model expected to make a record retail price (very expensive). Therefore, here are the price lists we predict for all the Samsung S10 tier expected to drop into the market:
Samsung Galaxy S10 Lite [6GB RAM, 128GB ROM] – $779
Sam sung Galaxy S10 [8GB RAM, 512GB ROM] – $929
Samsung Galaxy S10 [6GB RAM, 128GB ROM] – $1,179
Sam sung Galaxy S10 Plus [6GB RAM, 128GB ROM] – $1,049
Samsung Galaxy S10 Plus [8GB RAM, 512GB ROM] – $1,299
Samsung Galaxy S10 Plus [12GB RAM, 1T ROM] – $1,599
5G support
Since the standard Galaxy S10 will arrive before the official launch of 5G, it will not be equipped with the 5G tech. However, Samsung will reenergize its S10 line that with a device that will support 5G; it is rumored to be called the S10 X.