The best cheap cell phone plans and deals of 2020!
Networks
Monthly Cost
Data
Minutes
Contract length
Cell phones play a significant role in our day to day activities. Mobile phone devices make communication efficient and easier. They allow us to connect easily with people from any part of the world.
Communication is efficient because you can send texts, make and receive calls as well as send emails, media, etc. through internet data. With the current generation of smartphones, you can do everything with a cellphone. All this is possible when you have a perfect – cheap and effective – network plan.
Now that the world has been caught up in a severe pandemic – Corona Virus – we've seen most states across the globe order shutdowns and lockdowns. People have to stay in their homes to stay safe and minimize the spread of the virus. And in so doing, we have been left with the only option of using our cell phones to perform various tasks.
The main challenge that faces the use of cell phones is having to pay outrageous bills, some of which tend to be higher than other basic monthly bills such as electric bills, gas bills and water bills. If you're thus tired of forking over big monies for a data, text, or call plan, then you're at the right place.
Factors to consider when choosing the best cheap cell phone plans
In the US, the Big Four wireless carriers – AT&T, Verizon, Sprint, and T-Mobile – have dominated the US market. But, the growing popularity of discount cell phone companies has given the renowned carriers a run for their money.
You find that the discount carriers run from either of the major carriers, and therefore reliable coverage is not a matter of your concern. You will, in fact, get reliable coverage at a cheaper cost.
Among the factors to consider when choosing the best plan for you include:
your phone's compatibility
the coverage of network in your area
the number of lines required
the data required
desire to cut back
and, any additional fees
The advantage with these plans is that most of them come with a money-back guarantee and therefore if you are not pleased by a service, you can cancel it right away. Some of these cut-rate plans further, let you purchase an unlocked phoned, or even allow you to bring your phone provided it will work on their network.
The following are some of the best cheap cell phone plans:
The Best Cheap Cell Phone Plans and Deals of 2020
Cricket Wireless
Price: starts at $30 per month for unlimited high-speed data plans
Operates on: AT&T network
Plan: among the players who provide non-contract mobile and low-cost plans, Cricket wireless is a vital network provider. Cricket Wireless utilizes its parent network – AT&T – but at a cheaper plan rate and offerings. You can choose between unlimited data plans – which start at $40 per month when you are buying along with your device – 2GB and 5GB. Additional features such as mobile hotspot will cost you $10 per month, $10 for additional GB of data as well as device protection, where it covers water damage, loss, physical damage, and theft.
Fees: there is an in-store activation of $25 on activating a phone on the Cricket's network but free when done online. No hidden fees.
Phone compatibility: it requires an unlocked phone and an LTE-compatible device. The SIM cards are available at $9.99. You can check whether your phone is compatible with the network on the Cricket Wireless' Website.
Pros
no contracts
bring your phone
cheap unlimited plans
Cons
subpar customer service
no service in AT&T dead areas
US Mobile
Price: the plan starts at $4 per month
Operates on: the plan operates on T-Mobile and Verizon's networks.
Plan: the US Mobile carrier operates in GSM SIM cards. It has dozens of plans that customers can choose from and save their money. With this plan, you can go unlimited or either create a custom prepaid plan. With the custom plan, you pick the number of texts, minutes, and Giga- or megabytes you need. In a scenario that you don't use all the features the plan came with, they roll over to the next month immediately when the autopay takes place. When you add a line, you will pay $4 per month, and data incrementally starts at $2 per 100MB and $3 for 100 minutes.
Fees: no hidden fees, but a monthly service fee of $2 per month is charged. You must, however, pay for the regular government-mandated fees and taxes.
Phone compatibility: 99% of phone devices work with this network. An extra fee of $3.99 is paid when you come with your phone for the starter kit – a SIM card.
Pros
24/7 customer service support,
chat and email help,
no hidden fees,
no-contracts
and no surcharges
Cons
limited service in some areas
Mint mobile
Plans: the plan starts at $15 per month
Operates on: T-Mobile Network
Plans: Mint Mobile is a discount mobile carrier that lets you bring you your phone and works on the T-Mobile network. On signing up to Mint Mobile, you get an introductory price of $15 per month for the first three months. In this plan, you get 3GB of data, ad unlimited text, and talk, including your SIM card kit. You can later get a three-, six-, or the 12 month plans where there are more savings with an increase in the months you have signed up for.
Fees: no hidden charges except state and federal taxes and fees
Phone compatibility: works with unlocked GSM devices and gives a free SIM card
Pros
you can choose your best plan
Cons
T-Mobile might not be available in all areas
Republic Wireless
Price: it starts at $15 per month
Plans: this carrier couples the power of two 4G LTE networks and Wi-Fi, offering inexpensive cell plans for users. Unfortunately, the carrier is for Android users only. A payment of $15 provides you an unlimited text and talk plan. For those who want their plan to include data, you start with $20 per month for a GB and then $5 per additional GB. Upfront payment for a full year saves you more money.
Fees: there is no payment of any activation overage fees or line-access
Phone compatibility: the carrier supports Motorola Samsung Google Alcatel and other Androids. If you happen to bring your phone, then you can buy the SIM kit from Republic's website at $5
Pros
cheap monthly bills
no contracts
no hidden charges
Cons
must have a Republic Wireless compatible phone
T-Mobile or Sprint is not accessible in some areas
Boost Mobile
Price: Boost unlimited plans start at $50 per month
Operates on: Sprint network
Plans: it runs on the Sprint network and offers no-contract plans. With just $35 per month, you get unlimited text, talks, and 3gigs of 4G LTE data. Its most expensive plan goes for $50 per month, and the offer includes unlimited text and talk and unlimited gigs of data. LG, Motorola, Samsung, and Kyocera get super affordable basic options, but you can't bring your phone. Boost further offers unlimited plans with no contract at $2 per day.
Fees: Fees and taxes are included
Phone compatibility: you can check if your phone is compatible by visiting the Boost's website
Pros
no contracts
unlimited daily and monthly plans
Cons
opinions start at around $20
to use it you must have a Boost Mobile phone
Virgin Mobile

Price: its average bill is $40 per month
Operates on: Sprint Network
Plan: Virgin Mobile is a discount plan provider where you get an offer as pay-as-you-go plans for cost-conscious users. For those plans that have unlimited text and talk and high-speed data, you have to pay $50 per month. Since all its plans are contract-free, you can shop around for another provider anytime or switch between plans. The carrier further allows you to bring your phone.
Fees: you only pay the regulatory or government-mandated fees
Phone compatibility: You can check whether your phone is compatible on their website
Pros
unlimited plans
no contracts
Cons
not all phones work with the network
FreedomPop
Price: the plan starts absolutely for free
Plan: the plan offers up to 500 text messages, 500 MBs of data, and up to 200 voice minutes per month absolutely at no cost. FreedomPop further allows you to bring your phone. You can further score a free cell phone service, and also you can choose a phone from one of their refurbished or new devices starting from a cost of $39.99
Phone compatibility: by visiting their website, you can quickly know whether your device is compatible with the network
Pros
you can bring your phone
for the infrequent users, plans are available for free
Zero hassles
no gimmicks
no contracts
Cons
pricing after free usage
there are reports of poor customer services
Tello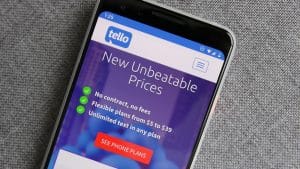 Price: it starts at $5 per month
Operates on: Sprint network
Plans: to use Tello, you're not required to sign a binding contract. Tello uses pay-as-you-go though you can build and update your plan at any time of your convenience. All of its plans include free texts. The plans further include calls to Mexico. Canada and China. New customers plus the current customers are being given double minutes and data at zero cost. Until My 29th, the monthly rates stand at $5. On running out of data, Tello still allows you to use data, but it's bumped down to 2G from 4G LTE.
Fees: the only fees paid are the federal and local tastes.
Phone compatibility: it's compatible with all Sprint phones. Also, all devices purchased from Google Play, Apple, Verizon, AT&T, T-Mobile, and big-boxes. You also need a SIM card which you only need to pay a one-time charge of $9.99
Pros
free texts in all plans
compatible with many devices
Cons
some areas have inadequate Sprint network coverage
Twigby
Price: it starts at $15 per month
Operates on: Verizon and Sprint as well as Wi-Fi
Plans: the carrier allows you to customize your prepaid plan. All the plans have unlimited text messages, so you mainly have to decide on the amount of data and minutes you need. All the plans further include free Wi-Fi. On depleting your data, you can opt to bump over a 2G network or go to the next level. It provides a maximum of 10GB per month, so if you, therefore, want more than this, then you should go for another plan. The plans that Twigby offers includes unlimited text and talk plus either 3GB, 5GB, or 10GB at $20, $25, or $35 per month.
Fees: it charges taxes, regulatory and government-mandated fees
Phone compatibility: you can check whether your phone is compatible with the network on Twigby's website
Pros
unlimited texts
bring your phone
Cons
maximum of 10GB per month
doesn't offer unlimited plans
Recap
There you have it, the best cheap cell phone plans of 2020! If you're desperate to make savings on your cell phone bills, then you can consider using either of the above discount plans. But first thing first, you must consider and take a closer look at your phone and data habits. While you may be saving money, you will always give something up, whether it's unlimited service, excellent customer service, coverage area, and other options. But you don't have to pay a hundred bucks per month for a phone network, yet you can use only $20 per month. Imagine what you could do with an extra $80!